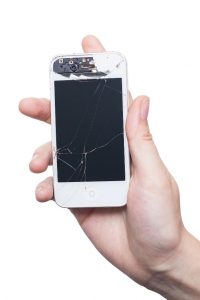 Life is pretty unpredictable, and our smart devices are with us through it all—in our bags and pockets, by the pool, in the car, etc. Even when you invest in a protective phone case like cradl, accidents happen. Luckily, Apple makes its handling process for damaged items pretty straightforward. Here's how to remedy a damaged Apple device.
First, it's super important that you understand what's covered under your warranty. Apple lists all of its warranties for its devices on its website, but here's a quick rundown of the iPhone's coverage:
If you've had your iPhone for less than a year, Apple's limited warranty covers your phone against manufacturing defects. If the phone is not working the way it should (say, the battery won't hold a charge or won't turn on), you can mail it in or bring it to an Apple store to have it serviced. There's no charge if the device is covered under warranty.
Apple's extended warranty, Apple Care+, prolongs your iPhone's hardware coverage from one to two years, and is purchased at the same time as your iPhone (or within 60 days). If your phone suffers accidental damage (cracked screen, anyone?), Apple will repair or replace it up to two times for a small fee.
Once you've read up on your warranty, visit Apple's support page, which lets you identify what's wrong with your device and recommends the best course of action.
If your phone is straight up damaged or broken, you'll probably need to bring it into an Apple store (or mail it for repair, if you don't live near a store). Make an appointment at the Genius Bar and receive personal assistance from an Apple employee.
Before you set foot in the store, though, be sure to back up your device. We repeat: Back. Up. Your. Device.  Doing so ensures that all your contacts, photos, notes, health data, and more get transferred onto your new device. Plus, creating Facebook groups asking for your friends' numbers is SO 2006.
If your phone is not covered under warranty, you may not be entitled to free or discounted repairs, but your phone may still be worth something. Apple recently began accepting and offering store credit for damaged iPhones as part of its Reuse and Recycle trade-in program, so you could get between $50 and $200 toward an upgrade when you trade yours in.
One thing we haven't covered is liquid damage, which is probably second to a smashed screen as the most common iPhone blunder. Apple warranties don't cover liquid damage, so you could attempt to fix it yourself using the old take-apart-and-dry-out method. Alternatively, you could bite the bullet and purchase a new phone—starting at $399.
The bottom line? A protective case and a little TLC go a long way in keeping your Apple device damage-free, but in case you find yourself with a cracked screen or malfunctioning camera (or worse!), take a deep breath and know that with just a few simple steps, you'll be back to Instagramming in no time.