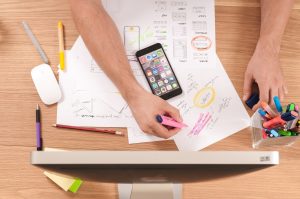 Between FaceTime, social media, detailed contact lists, and keeping track of our calendars, iPhones have revolutionized more than just the way we communicate — how did we ever organize our lives before they came along?? With a few simple tricks, your iPhone can do even more! From tracking your health and wellness goals to keeping appointments up-to-date, here are some ways your iPhone can make your life a little easier.
Improve Your Health
Every new iPhone now comes pre-loaded with a Health app that manages data ranging from your medication allergies to how many steps you walk per day. The most basic feature of the Health app is to track how much you're walking and running—no separate pedometer needed. You can also monitor other health-related data, such as your weight, caffeine intake, blood glucose levels, and even vitals like heart rate and blood pressure.
Having all this information in one place is a great resource the next time you're at the doctor or just want an overview of your health. What makes the Health app stand out is its ability to "talk" to other fitness tracking apps, and let these apps interact with each other. For example, after you weigh yourself using a wireless FitBit Aria scale, your weight and body mass index sync with the Health app. Then, you exercise using the 7 Minute Workout app. With permissions enabled, the 7 Minute Workout can access your logged weight from the scale app to correctly calculate your calorie burn, and that data is conveniently stored in the Health app. Pretty cool, huh?
Sleep also plays a huge role in overall health and wellness. Apps like Sleep Cycle sit on your nightstand and monitor the restfulness of your time spent in slumber. In the morning, the app wakes you up gradually during your lightest sleep cycle and reports your movement patterns and sleep quality throughout the night.
Preserve Your To-Do List
It's 7:00 am and you realize you're out of milk. You scribble a note to yourself on a scrap piece of paper and toss it in your bag for later. That evening, you arrive home sans milk and wonder how you forgot to swing by the store. Sound familiar? Use Siri to schedule reminders for yourself (you can also program it manually). With Siri turned on, just say, "Remind me to pick up milk at 5:30 pm today," "Call Susan tomorrow," or, "Text Brad the directions after work." At that time, a notification will pop up and alert you. Consider it done.
Manage Your Calendar
We get it, plans change. Save yourself the time of taking out your phone and manually updating your calendar by telling Siri, "Reschedule brunch with Melissa to tomorrow at 9:30 am," and it will update automatically in your calendar. Siri can also add calendar events ("Schedule a call with Jenna at 10:00 am today," cancel events ("Cancel my meeting at 4:00 pm"), and update events' locations ("Move tomorrow's band concert to the gym.") Again, you can do this manually as well, but we love Siri for its efficiency.
Organize Yourself and Your Family
Create task lists using Apple's built-in Reminders app and eliminate those random Post-its strewn around your office. When you enable Family Sharing, your list of reminders will sync with everyone in your group, making it easy to stay organized when it comes to shopping lists and household chores.
When faced with a tidbit you'd like to remember for later reference, store it as a reminder (or tell Siri what you'd like to remember, like, "Note that James dislikes carrot cake,") and that information will be captured and stored as a note in your phone for later reference.
Never Lose Your Car Again
No matter how convinced you are that you'll remember that you're parked in Lot D, Section 2, Row 34, you won't. Even if you've snapped a picture, that won't help if you can't remember how to get back to the parking lot. Before you leave your car, open up either the pre-installed Apple Maps or download the Google Maps app and, with Location Services enabled, let your phone detect where you are, then tap and hold on your current location until a pin drops, marking that spot. Later, your phone can give you step-by-step directions to return to your pin. Google Maps also lets you save the map for offline use, which is perfect for when you don't get cell service in a parking garage.
We hope these tips help you see your iPhone in a new light. Do you have your own suggestions for ways your iPhone can make life easier? Tell us in the comments below!