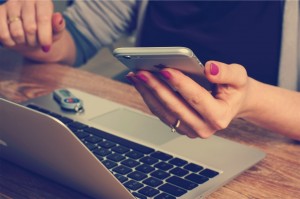 We know you love your iPhone, but admit it, you'd probably be willing to part with it if Apple offered you a newer version. Nearly half of Americans choose to upgrade their mobile devices as soon as their plan allows it (usually every two years) or as soon as a new model is released (usually every year), according to a recent Gallup poll. Combine that with the fact that iPhone users are more likely than Android customers to upgrade their phones as soon as possible, and that means that there are a lot of unused iPhones out there. Before you turn yours into a permanent paperweight, check out our top 10 ideas for upcyling your old iPhone:
In-Car Entertainment
Load your music library, podcasts, and audiobooks onto your old iPhone and use it exclusively in the car. That way, your music will be ready to go as soon as you start the car—no more awkward silences.
Upgrade Your Camera
For many people, their phone is their primary—if not only—camera. With a few add-ons (telephoto, wide-angle, and macro lenses are a must), you can transform your old iPhone into a camera that rivals a DSLR at a fraction of the cost.
Document Scanner
Don't panic the next time your employer/school/bank needs a document signed and scanned ASAP. Download a free app like CamScanner to scan important documents and receipts and turn any image into a PDF.
Learn to Cook
Whether you're a Pinterest recipe hoarder or just trying to get started in the kitchen, turning your old iPhone into a digital recipe box will serve you well the next time you're asking yourself what to cook for dinner. Try a note-taking app like Evernote, which syncs between all your devices so you can find, save, and access recipes on the go.
Manage Your Sleep
If you're like us, your iPhone is one of the first (okay … THE first) things you see when you wake up each morning. Mount your old iPhone next to your bed and use it for more than just an alarm clock. Like to catch up on Netflix before you drift off? Need white noise to fall asleep? Your old phone can accommodate all of that; plus, you won't be woken up in the night to calls or texts.
Use as a Voice Recorder
Record meetings, memos, discussions, interviews, or even notes to yourself (you never know when you'll be hit with your next brilliant idea, after all). Apple's Voice Memos makes it easy to capture, save, trim, and organize audio recordings.
Security Camera
Turning your old iPhone into a security camera is easier than it seems. Download the Presence app on two devices (your old iPhone and your current device). Set your old phone up in places you want to keep an eye on—perhaps your front door, living room, baby's room, etc. Then use your current device to monitor what's going on in your home at all times.
Transform it into a Game Boy
We are all about our cradl case, but sometimes just want to play some old-school Nintendo (who doesn't?)This iPhone case turns your phone into a vintage-style Game Boy console. Need we say more?
Turn it into a Universal Remote
Your old iPhone can eliminate the pile of remotes cluttering your coffee table. Apps like iRule leverage your home's Wi-Fi network to let you control not just the TV, but any Wi-Fi enabled device, including A/V equipment, lights, Blu-ray players, Xboxes, and the thermostat—all from your iPhone. Apple's Remote app lets you program your phone to control your other Apple devices, like Apple TV and Macbook.
Donate It
One of our favorite ways to upcycle! Here are some nonprofits that collect old iPhones for a good cause:
Cell Phones for Soldiers recycles old phones to provide talk time for our overseas troops to call home.
Secure the Call sorts, tests, and distributes used phones to senior citizens living alone and women who are at risk for abuse to ensure they have access to a 911-emergency phone at all times.
Most schools and school districts gladly accept old iPhone donations to download educational apps that teachers can use with their students.
We hope these tips help you breathe new life into your old iPhone—and make your life a little easier along the way! Tell us about creative ways you've repurposed your old device in the comments below.