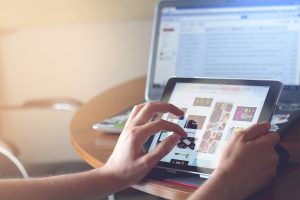 Living with purpose is easier than it has ever been before. Thanks to modern technology, your decisions, activities, and purchases can make a huge difference in the life of someone less fortunate. It's up to you to ensure that the impact you make is a positive one. If you're interested in using your smartphone for good, we have just the thing. Here are 3 mobile apps for charitable causes that you can begin using right away:
Give your workouts a (second) purpose
Charity Miles is a mobile app that turns your everyday routine into something just a bit more special. Each time you exercise, simply open the app, choose the charity you want to support that day, and press start. It can truly be anything, including a short walk with your dog, shoveling snow, or that marathon you've been training for. There's something for every lifestyle and fitness level.
Your workout will raise awareness and earn a predetermined amount, based on the type of activity you've chosen. For example, bikers earn 10 cents per mile, while walkers earn 25 cents per mile. Your phone (using the app, of course) measures your distance and calculates the payout for you. The program supports over thirty very important causes and is supported by the likes of Chobani, Johnson & Johnson, and Humana.
When you have a meal, give a meal
The concept is both simple and brilliant, and we absolutely love the humanitarian initiative behind this mobile app. Using Tango Tab, you find a participating restaurant near you. When you arrive, you check in (similar to any other the other mobile check-in applications that we all use today), and the restaurant donates a set fee to the program.
Participating restaurant chains include Maggiano's, Chipotle, Subway, and yes, Starbucks. There are also many smaller local businesses that have joined in, as well. Funds go to support need-based food charities like the Regional Food Bank of Oklahoma, North Texas Food Bank, Jacobsen & Kushman San Diego Food Bank, and a number of others across the United States.
Feedie is an app with a similar purpose, but rather than checking in, you simply snap and share a photo of your meal. This program benefits the Lunchbox Fund, which feeds school children in Africa.
Share a smile.
The internet is overflowing with negativity. We see scary news, tragic tales, and even the happiest social media posts get their share of ugly comments. Wouldn't it be terrific if everyone invested just that much energy into uplifting one another? That was exactly the premise behind the creation of ChinUp, a mobile application designed to make the world just a little bit brighter.
Using ChinUp, smartphone users can share generally positive thoughts, or they can be more specific with their compliments toward a member of their community. This program is uplifting for people of all ages, but is especially beneficial to high school and college students. The creators are committed to putting a stop to cyberbullying and making campuses safer for everyone. ChinUp has also partnered with Make-A-Wish of Connecticut to share support and positivity with the children who participate in that indispensable program. Sharing a few kind words will cost you nothing, but it could make a huge difference in the life of the person reading it. This app is a must for anyone with a heart for doing good.
Your mobile devices are with you practically around the clock. Start using them for the kind of activities that truly make a difference. Nothing that we have listed here will cost you a single penny, but the potential return on your investment is immeasurable. Add to the purpose of your day by downloading one of these meaningful mobile applications.