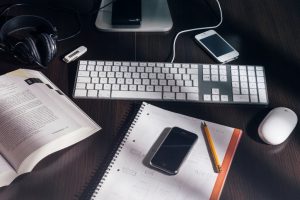 These days, we expect a lot from our iPhones. Through calls, emails, and texts, our mobile devices are our connection to the outside world, and here at cradl, we're devoted to protecting yours. We also appreciate other useful iPhone accessories, and are constantly amazed at the new innovations in the iPhone accessory world. Here are some of our favorites from around the web:
Print on the go
Remember the days of Polaroids, when you could print photos nearly as fast as you could snap them? The Prynt accessory, which turns your iPhone into a small printer, puts a modern spin on the Polaroid camera. Attach it to the back of your iPhone and print 2×3-inch color photos in about 30 seconds. Instead of ordering ink cartridges, Prynt utilizes ZINK (short for "zero ink") technology that prints beautiful, smudge-resistant photos on paper that you can reorder straight through the Prynt app. You can edit your photos directly through the app, as well (or use any photo editing app of your choice). We also love that Prynt uses an interchangeable adapter system so you can use it with different iPhone models, including iPhone 6s Plus, iPhone 6 Plus, iPhone 6s, iPhone 6, and iPhone 5.
Space-saver
Avoid the dreaded iPhone "Storage Full" message with PhotoFast's sleek MemoriesCable. Part thumb drive, part charging cable, this handy tool lets you store and manage data, and automatically backs up your iOS device while charging your iPhone or iPad. So if you can only fit half your music or movie collection on your iPhone, store the rest on the MemoriesCable. When you plug it into your phone, you'll have access to your entire iTunes media library on the go.  Same goes for photos: back up your mobile pics on MemoriesCable so you can delete them from your phone to free up space.
Built-in running coach
Runners, this one's for you. Sensoria is a super cool app that turns your socks into a running coach. For $199, you can purchase a pair of sensor-filled Sensoria smart socks that sync with an incredibly light Bluetooth Smart detachable anklet. When connected to the sock, the anklet communicates with the Sensoria mobile app through Bluetooth Smart, delivering information about steps taken, speed, calories, altitude, and distance tracking. The coolest part is that the smart socks detect foot pressure through the use of three sensors under the bottom of the foot, which track cadence (foot strikes per minute) and foot landing technique in real-time during your run. This could be very helpful in identifying injury-prone running styles (i.e., heel striking, ball striking, etc).
Durable, go-anywhere tripod
Tripods are fantastic tools, but photographers know that the best photo opportunities don't always happen on perfectly even surfaces. That's where the Grip Tight Gorillapod comes in. Its flexible legs easily wrap around trees and poles, and its foot grips stabilize your iPhone on uneven surfaces. It's also super durable, so it's perfect to throw in your pack on a hike to get some pretty nature selfies. This nifty tool is compatible with small or large iPhones as well as smaller tablets.
Once your iPhone is protected with a cradl case, there's a world of high-tech accessories you can add to make it as useful as possible. Who knows what they'll think of next!